The Red Paintings announce "Chinese Whispers" UK and European Tour NOV/DEC 2012

We are on the lookout for artists and human canvases and we want YOU to be a part of TRP's creative circus. Email: artsubmissions@theredpaintings.com to submit 3 of your best artworks or your body.

The Red Paintings will be bringing their spectacular live show to the UK and Europe in late 2012. "The Chinese Whispers Tour" sees TRP return to London since their first visit as support for two back-to-back sold out shows at The Roundhouse, with cabaret punk duo The Dresden Dolls. The creative new stage show which features unique visual projections along with human body and canvas painters who join them on stage to create artworks that reflect their music and energy. Presented by Horizon Music the "Chinese Whispers" ambitious 35 date tour kicks off from Nov 8th till Dec 23rd, 2012 across the UK and Europe.

"Chinese Whispers" UK/EU Tour Dates:

Sat Nov 10 – Newmarket Bar, Thurso, Scotland, UK
Sun Nov 11 – Dundee Mono Uni Bar, Scotland, UK
Mon Nov 12 - Glasgow, Scotland
Tue Nov 13 – The Adeliphi, Hull, UK
Wed Nov 14 - Minsters Bar, Stoke on trent UK
Thur Nov 15 - Underworld, London UK
Fri Nov 16 - Sanctuary Live, Basingstoke UK
Sat Nov 17 - Underpass, Milton Keynes UK
Sun Nov 18 – Paris, France - venue TBA
Mon Nov 19 - Carpe Diem, Hesselt, Belgium
Tue Nov 20 - Hafen 2, Offenbach (Frankfurt) - Germany
Wed Nov 21 - FZW, Dortmund, Germany
Thur Nov 22 - Lowbrow, Darmstadt, Germany
Fri Nov 23 - Lilu, Lippstadt, Germany
Sat Nov 24 - Metz, France - venue TBA
Sun Nov 25 - Lorenz, Sud, Munster, Germany
Tue Nov 27 -Rockhouse, Salzburg, Austria
Wed Nov 28 - Festsaal, Berlin, germany
Thur Nov 29 - Italy venue TBA
Fri Nov 30 - Chromazone, Avellino, Italy
Sat Dec 1 - Batelier - Bratislava, Slovakia
Sun Dec 2 - Vienna, Austria - venue TBA
Mon Dec 3 - Akvárium, Budapest, Hungary
Tue Dec 4 - Exit-Us, Prague, Czech Republic
Wed Dec 5 - Puzzle, Wroclaw, Poland
Thur Dec 6 - Fabrika, Poznan, Poland
Fri Dec 7 – Brno – Czech Republic - venue TBA
Sat Dec 8 – Varmuzeum, Szeged, Hungary
Sun Dec 9 – Tomislav, Belgrade - Serbia
Mon Dec 10 - Barrak, Ostrava, Czech Republic
Tue Dec 11 - Zwolfzen, Stuttgart, Germany
Wed Dec 12, Markthalle, Hamburg, Germany
Thur Dec 13 - Forum, Bielefeld, Germany
Fri Dec 14 - KB 18, Copenhagen, Denmark
Sat Dec 15 – Gothenburg, Sweden - venue TBA

More shows to TBA: Keep checking back to TRP Facebook Events for newly announced shows throughout October.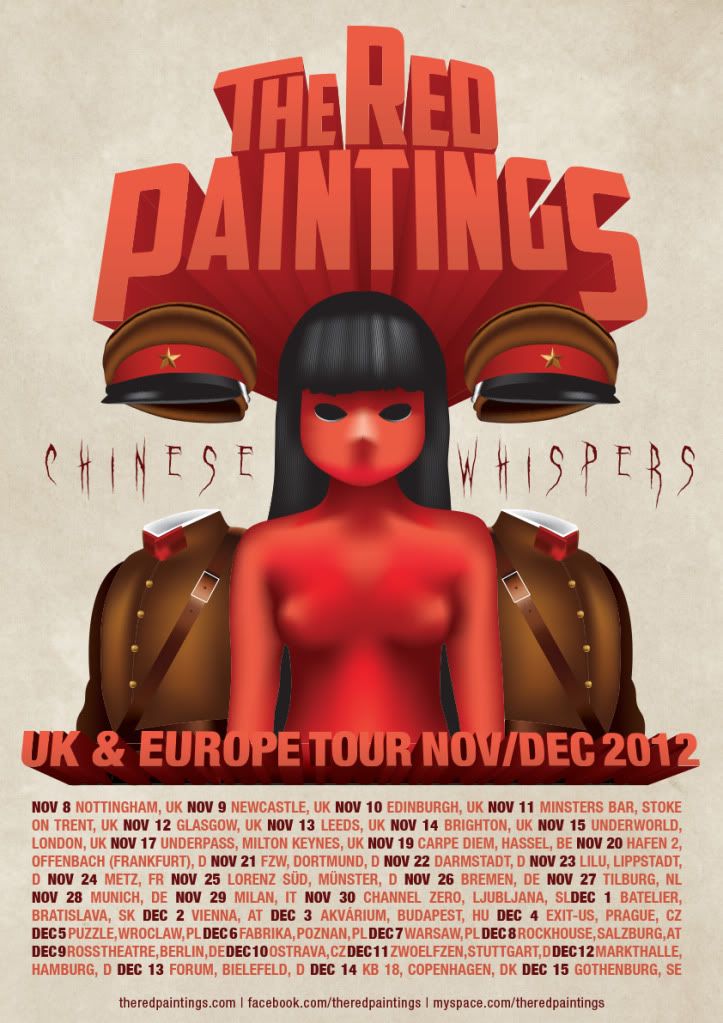 Poster by Adele Walker